You are here
Back to top
Friction: Adding Value By Making People Work for It (Hardcover)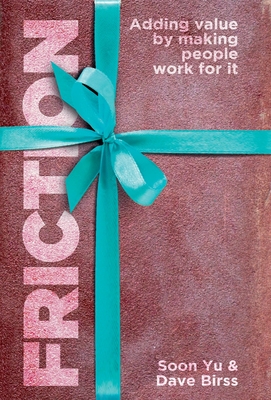 $25.00

Usually Ships in 1-5 Days
Description
---
Adding Value By Making People Work For It
Friction isn't something to be avoided. Successful businesses not only understand the difference between good and bad friction but also know how to EMBRACE A DOSE of good friction to create greater value. We'll show you how to leverage good friction to generate adrenaline, dopamine, oxytocin, serotonin, and endorphins to drive increased engagement, meaning, belonging, rapport, assurance, competence, and exclusivity.
Reviews
"This engrossing book shattered my assumption that the hallmark of a great product or service is making things as easy as possible. If you think eliminating effort is the key to good design, get ready to think again."
-Adam Grant, #1 New York Times bestselling author of THINK AGAIN and host of the TED podcast WorkLife
"Eliminating bad friction is now table stakes. To win you need to engage customers with good friction that makes them stop, pause and even sweat a little."
- Vala Afshar, Chief Digital Evangelist at Salesforce.com
"With friction, we walk. With no friction, we fall on our face. If you are running a business, if you are launching a product or service, this essential book will help you add the right smidgen of friction so that you can walk (or even better, run) toward your goal. Avoid faceplants, read it now."
-Chip Heath, New York Times bestselling author of Switch and Made to Stick, Professor, Stanford Graduate School of Business