You are here
Back to top
How To Pick Locks: The Practical Guide On Lock Picking Tools, Techniques And Strategies, (Learn How To Pick Lock Anywhere And Everywhere (Paperback)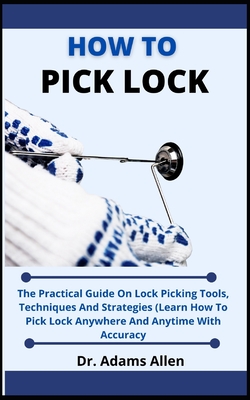 $8.40
Email or call for price
Description
---
Have you ever felt frustrated after losing your keys and getting locked out of your house?
Do you want to pursue lock picking as a hobby or are you aspiring to take up locksmithing as a career?
If your answer is YES, then read on...
You Are About To Discover How To Pick Locks Like A Pro Using The Practical Guide On Lock Picking Tools, Techniques And Strategies, (Learn How To Pick Lock Anywhere And Everywhere With Accuracy)
First of all, let's make things clear; it is not true that lock picking can only be learned for breaking into other people's houses. In the right hands, lockpicking is an essential skill that can be used for a good course and can even save a life.
By virtual that you are here, it is clear that you want to acquire this important skill and you looking for a guide that is professionally written to set you up for success - and you might probably be wondering...
Why should I learn how to pick locks?
Does the law allow me to be pick locks?
Are there tools that I need to get started?
I see people making picks from a hair bobby pin in movies; is it possible?
What if I lock my keys inside my car; is it possible to pick the lock without damaging anything?
If you have any of these or other similar questions, then this book is what you need so read on, as it answers all of them in a very clear and yet simple language that you can use to become a pro lock picker.
In this guide, you are going to learn everything you need to know about picking a lock using a step-by-step format to allow you to pick different lock types and using effective techniques.
Here is a sneak preview of what you will discover in this book:
Why you should learn how to pick a lock
The foundation for lock picking including different types of locks that you will encounter and how the lock works to give you a clearer picture
The lock picking tools that you will need and how to make DIY tools using available items if you are caught unawares
How to pick different locks and different techniques that you can use to achieve success
Potential mistakes that you might find yourself doing which might limit your chances of succeeding and how to avoid them
Hacks to make lock picking more successful
And so much more...
Yes, even if you've always thought lock picking is an advanced skill that only the spies use to break into people's homes without, this book will show you how to pick any lock for your own good
With this guide, you will discover that it is as easy to pick a lock as they do in the movies.
Scroll up and click Buy Now With 1-Click or Buy Now to get started.