You are here
Back to top
A Student's Dictionary of Classical and Medieval Chinese: Revised Edition (Handbook of Oriental Studies. Section 4 China #30) (Paperback)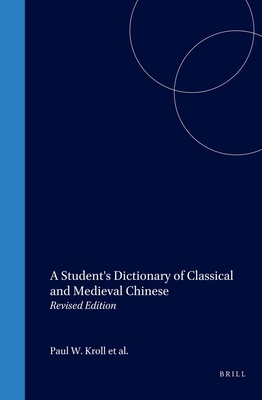 $53.00
Email or call for price
Description
---
Winner of the 2015 Choice Outstanding Academic Title Award
Also available in paperback. The work is also included in the Chinese-English Dictionary Online.

A Student's Dictionary of Classical and Medieval Chinese is the long-desired Chinese - English reference work for all those reading texts dating from the Warring States period through the Tang dynasty. Comprising 8,000+ characters, arranged alphabetically by Pinyin.
As a lexicon meant for practical use, it immensely facilitates reading and translating historical, literary, and religious texts dating from approximately 500 BCE to 1000 CE. Being primarily a dictionary of individual characters (zidian 字典) and the words they represent, it also includes an abundance of alliterative and echoic binomes (lianmianci 連綿詞) as well as accurate identifications of hundreds of plants, animals, and assorted technical terms in various fields. It aims to become the English-language resource of choice for all those seeking assistance in reading texts dating from the Warring States period through the Tang dynasty.
Previous Chinese-English dictionaries have persistently mixed together without clarification all eras and styles of Chinese. But written Chinese in its 3,000 year history has changed and evolved even more than English has in its mere millennium, with classical and medieval Chinese differing more from modern standard Chinese than the language of Beowulf or even that of Chaucer differs from modern English. This dictionary takes the user straight into the language of early and medieval texts, without the confusion of including meanings that developed only after 1000 CE. An added feature of the dictionary is its identification of meanings that were not developed and attached to individual graphs until the medieval period (approximately 250-1000 CE), setting these off where possible from earlier usages of the same graphs.
Those who have, or are acquiring, a basic understanding of classical grammar, whether approaching the language from a background either in modern Chinese or Japanese, will find it eases their labors appreciably and helps to solve countless problems of interpretation. Advanced students will find it to be the one reference work they want always close at hand.
The dictionary has an index by "radical" and stroke-number, and contains various appendices, including one with reign-eras and exact accession dates of emperors given according to both Chinese and Western calendars.

Corrections have been provided by William Baxter for some of the Middle Chinese (MC) readings in this revised edition of the dictionary. These are also reflected in the online version of the dictionary, available through chinesereferenceshelf.brillonline.com/chinese-english. They are also available in a downloadable file on this page under More Information for those who have purchased the first edition of this work.
About the Author
---
Paul W. Kroll, Ph.D. (1976), University of Michigan, is Professor of Chinese at the University of Colorado, Boulder. He has published widely on medieval Chinese literature and cultural history.