You are here
Back to top
Hotel-Train: Revolutionise night trains with a real rolling hotel (Paperback)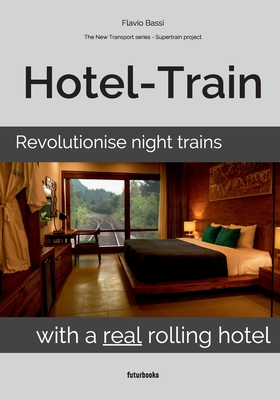 $29.00

Usually Ships in 1-5 Days
Description
---
"Hotel-Train" introduces a new concept of night train.
It is fundamentally a design manual. An impressive, extensive invention of this new object: a train that runs regularly every day and is built like a real hotel - a complete, refined, travelling hotel. It is amazing to see how we could travel long journeys while doing our own work, exercising in the gym, buying a book in the library, attending a school lesson, a university lecture, a cinema festival, or a theatre show... there is even a post office for shipping or receiving your luggage, inside the train And it looks like it could be realised right now. Internal design, on-board and off-board services, routes and timetables, carriage layout, a basic business plan... this book contains more than 80 innovative ideas, usable individually or as a whole; there is everything you need to start the realisation of such an incredible train from scratch (in this case, if you plan to work on it, please consider the "Reader-Writer Agreement" section, at the beginning of the book).
During the work the Author imagines collaborating with a new railway company, to invent and design this new concept. Sometimes you will see what the company and the designer say to each other.
In the book there are many illustrated comparisons with the current state of the art, including several luxury trains - often unknown - which offer expensive railway cruises in refined bedrooms, lounges and restaurants. The Reader can find several practical addresses of operating luxury trains all over the globe; with those addresses you can book a cruise even today, if you can afford it. Those trains seem very comfortable, but they lack all the innovations of the Hotel-Train which are introduced in this work. Moreover, the new Hotel-Train is designed to travel daily, rather than in single cruises, and to be much more affordable than today's luxury trains.
If you read carefully the book you can find also some vision of life, of world. A world in which entrepreneurs, managers, designers and builders work to provide new objects to the customers with the first aim of making people feel good - the purpose of having a revenue comes only after. It could seem a simple concept but it isn't, if we look deeper.
And in these pages there is also the life drama of an inventor who feels the absolute need to somehow communicate his unstoppable new ideas, while everyday needs are also other...
In conclusion, "Hotel-Train" is like a travel ticket that takes you to a new possible future and invites to build it together. This book should not be missing from the library of any train enthusiast or professional in the world.