You are here
Back to top
Japanese Hiragana & Katakana for Beginners: First Steps to Mastering the Japanese Writing System (Includes Online Media: Flash Cards, Writing Practice (Paperback)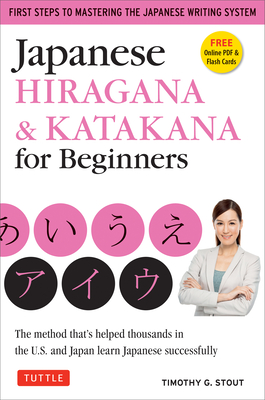 $14.95

Usually Ships in 1-5 Days
Description
---
The method that's helped thousands in the U.S. and Japan learn Japanese successfully.
The Japanese language has two basic writing systems, hiragana, and katakana, in addition to the one that uses Chinese characters or Kanji. This handy book teaches you a new mnemonic-based method to read and write the fundamental 92 hiragana and katakana characters. Along with its sister book:
Japanese Kanji for Beginners
it provides a complete introduction to written Japanese.
Memorable picture mnemonics help you to learn the characters by associating their shapes and sounds with combinations of images and English words already familiar to you.
Clear examples and engaging exercises offer opportunities to read, write, use and practice all 92 primary hiragana katakana characters, plus the remaining kana that stand for more complex sounds.
Polish your knowledge with word searches, crossword puzzles, fill-in-the-blanks, timed recognition quizzes, and other engaging activities.
The online media allows you to print out flashcards (featuring the same mnemonic images taught in the book) to help you review and practice, even while you are on the go.
All media content is alternatively accessible on tuttlepublishing.com/downloadable-content.
About the Author
---
Timothy G. Stout lived in Japan for 20 years and has taught Japanese language for 23 years in public and private schools, and at the university level. While teaching at the American School in Japan, he conducted research on the use of keyword mnemonics in the instruction of Japanese. Stout has a Doctorate in Education (EdD) from Utah State University, an M.A. in Japanese Pedagogy from Columbia University and a B.A. in Japanese Teaching from Brigham Young. He currently teaches Japanese at Utah Valley University and resides in Lehi, Utah with his wife and five children. Stout is the author of Japanese Hiragana and Katakana for Beginners and Let's Learn Japanese, both available from Tuttle.