You are here
Back to top
A Year Without the Grocery Store: A Step by Step Guide to Acquiring, Organizing, and Cooking Food Storage (Paperback)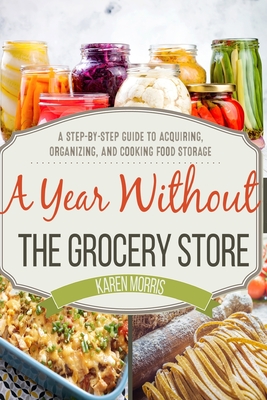 $11.99

Usually Ships in 1-5 Days
Description
---
In these uncertain times, your family can go a Year Without the Grocery Store
While everything around us is in disarray and filled with confusion, you can take control of this area of your life and know that your family will have plenty of food, no matter what your circumstances. More importantly, if you're consistent, you can accomplish this in fifteen minutes a day or less
Strapped for cash? Provide your family with a year's worth of food for $160 per person per year I'll show you how.
In A Year Without the Grocery Store, I'll walk you through a step by step plan which:
- Incorporate the meals that your family already loves
- Takes into account your family's unique food allergies, intolerances, and preferences.
- Teaches you how to economically store food your family loves.
- Provides you with simple recipes using basic ingredients to make comfort foods that your family craves.
Discusses alternate ways to cook your food storage in case you encounter an extended power outage.
- Instructs you how to safely store and use stored water.
- Points out pitfalls and holes in most people's food storage and crafts a plan for how to avoid them.
Don't know what you don't know? I help you figure things out
Discover the top four food storage items most people miss.
What often overlooked item is essential for cooking food storage?
What one type of item that most people forget can change the same basic ingredients into totally different meals? How does that work?
Never cooked without your stove? How do you cook without a stove? I show you how
Be better prepared for other small emergencies with bonus content in this book including Kit Content Suggestions:
BOB / 72 Hour Bag
Car kit
Power Outage Kit
Sickness Kit
Karen has been featured on Zero Hedge, The Organic Prepper, and Natural News. This authentic guide to food storage has been endorsed by Daisy Luther - The Organic Prepper.
Up your game and take care of your family more comprehensively so that your family can go A Year Without the Grocery Store. Pick up your copy by clicking the BUY NOW button at the top of the page before the price changes.
About the Author
---
On Good Friday in 2011, our house in Ferguson, Missouri was hit by an F4 tornado. Many people write about food storage from their accumulating of food storage during easy times. They have a knowledge of it, but haven't had to really live it. I haven't written about food storage because of our abundance, but because we've had to live from our food storage out of necessity. We lived through that F-4 tornado that hit our house. While the tornado didn't completely destroy our home, we were displaced by it. Having food storage in our house allowed me to literally pack up three week's worth of food and take it to the hotel in which the insurance company was putting us up. I didn't have to think about food or menus or about money to eat out every meal. This knowledge gave me the freedom to focus on getting things settled with the insurance company. I had the freedom to keep my kids going and to deal with them not feeling safe. I had the freedom to run to different places to sign documents or make the different phone calls to deal with the devastation the storm wreaked on our home. Since that time, I've lived through two other life-changing events. I was an eye-witness to the Ferguson riots. No matter which side of the equation you come down on, it was life-changing and eye-opening. I also lived through an armed standoff with a knife-wielding man during my family's time at a local homeschool chess club. This taught me the importance of knowing how to react before something happens, so you get it right. You don't have time to think things over. Each of these things taught me a new level of self-sufficiency and preparedness. I never knew what life was going to throw at me, but my journey to self-sufficiency started with food storage and grew beyond my wildest imaginings. If you are interested in finding out more about me, Karen Morris, or A Year Without the Grocery Store, you can head here: http: //ayearwithoutthegrocerystore.com.