You are here
Back to top
George Masa's Wild Vision: A Japanese Immigrant Imagines Western North Carolina (Hardcover)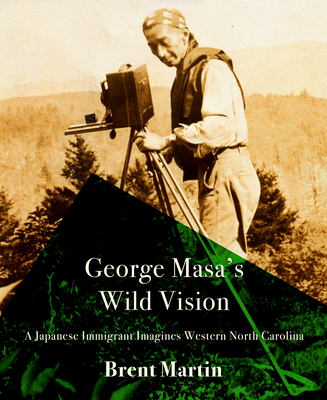 $28.95

Usually Ships in 1-5 Days
Description
---
Winner of the Thomas Wolfe Award

2023 Phillip D. Reed Environmental Writing Award Finalist
George Masa's Wild Vision recounts the incredible, overlooked life of the photographer George Masa.
Self-taught photographer George Masa (born Masahara Iizuka in Osaka, Japan), arrived in Asheville, North Carolina at the turn of the twentieth century amid a period of great transition in the southern Appalachians.
Masa's photographs from the 1920s and early 1930s are stunning windows into an era where railroads hauled out the remaining old-growth timber with impunity, new roads were blasted into hillsides, and an activist community emerged to fight for a new national park. Masa began photographing the nearby mountains and helping to map the Appalachian Trail, capturing this transition like no other photographer of his time. His images, along with his knowledge of the landscape, became a critical piece of the argument for the Great Smoky Mountains National Park, compelling John D. Rockefeller to donate $5 million for initial land purchases. Despite being hailed as the "Ansel Adams of the Smokies," Masa died, destitute and unknown, in 1933.
In George Masa's Wild Vision: A Japanese Immigrant Imagines Western North Carolina, poet and environmental organizer Brent Martin explores the locations Masa visited, using first-person narratives to contrast, lament, and exalt the condition of the landscape the photographer so loved and worked to interpret and protect. The book includes seventy-five of Masa's photographs, accompanied by Martin's reflections on Masa's life and work.
About the Author
---
Brent Martin is the author of three chapbook collections of poetry and of The Changing Blue Ridge Mountains: Essays on Journeys Past and Present. His poetry and essays have been published in the North Carolina Literary Review, Pisgah Review, Tar River Poetry, Chattahoochee Review, Eno Journal, New Southerner, Kudzu Literary Journal, Smoky Mountain News and elsewhere. He lives in the Cowee community in Western North Carolina, where he and his wife, Angela Faye Martin, run Alarka Institute.