You are here
Back to top
Training Contemporary Commercial Singers (Paperback)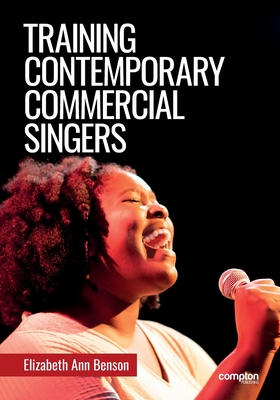 $40.00

Usually Ships in 1-5 Days
Description
---
Elizabeth's book is clear validation of our profession's health and vitality. It fills a void that needed to be filled, and I am proud to have this opportunity to say, "brava" ' From the Foreword by Elizabeth Louise Blades
'A welcome and wonderful resource for all singers and teachers of singing'. Jeanie LoVetri
If, like many singing teachers, you are seeking to improve your knowledge of CCM pedagogy in order to meet market demand and to expand your practice, this is a book you should read
Elizabeth Ann Benson has interviewed 26 expert CCM pedagogues working with leading CCM and musical theatre singers around the world, incorporating established teaching methodologies (including, among others, Speech Level Singing(TM) (SLS); Somatic Voicework(TM) The LoVetri Method; and Lisa Popeil's Voiceworks(R)) as well as eclectic and independent pedagogical approaches.
Their expertise is shared here, with responses organized into four sections, with commentary by the author, covering:
- teaching methods or approaches, teaching philosophies and the interviewee's own training and performing;
- approaches to teaching elements of vocal technique, including posture and alignment, breathing, support, tension,
- registration, (in)consistency, belting, vowels, and expression;
- special demands from the industry, including training beyond the voice studio, the roles of voice science and audio technology, improvisation, and working with young singers;
- discussions on admirable professional singers, and teachers' perceptions of 'success' and 'excellence' in commercial singing
This is not so much a 'how to' but more of a 'how I'; it gives you, in a single volume, the collective wisdom of some the world's very best pedagogues - in studio and in academe - and helps you apply best practices in your teaching. It is equally valuable for those beginning to explore CCM in their teaching and for those looking to deepen their current knowledge of CCM pedagogy. The commentary examines the responses within each topic to reveal pedagogical trends, both common and contrasting. Analysis of these data provides the first broad perspective on the field as a whole. At an elite level, diverse pedagogical approaches yield successful results in the voice studio and provide a veritable menu of options for the contemporary commercial singing teacher.
The singing teachers contributing here are: Irene Bartlett, Mark Baxter, Tracy Marie Bourne, Dane Chalfin, Kim Chandler, Matthew Edwards, Robert Edwin, Cate Frazier-Neely, Marcelle G. Gauvin, Marcelle G. Elisabeth Howard, Gillyanne Kayes, Wendy DeLeo LeBorgne, Jeanette LoVetri, Edrie Means Weekly, Kathryn Paradise, Lisa Popeil, Jeff Ramsey, Seth Riggs, Trineice Robinson-Martin, Marci Rosenberg, Cathrine Sadolin, Mary Saunders Barton, Jan Shapiro, Kimberly Steinhauer, Margareta Svensson Riggs, Kevin Wilson