You are here
Back to top
Cinema Sewer Volume 6: The Adults Only Guide to History's Sickest and Sexiest Movies! (Paperback)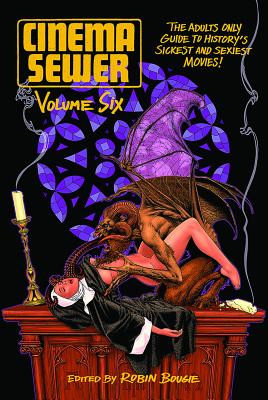 $19.95

Usually Ships in 1-5 Days
Description
---
The celebrated underground smash that is Cinema Sewer the magazine has been transformed and mutated into CINEMA SEWER: THE BOOK - and following the outstanding popularity of the first five books, VOLUME SIX has been unleashed onto a now slightly-less-unsuspecting world A mind-melting compilation of gonzo writing, illustration and comics about the most insane, sexy, awkward, cheesy, hilarious, upsetting and jaw-dropping movies in the history of film, Cinema Sewer joyously and shamelessly celebrates the sleazy aspects of bizarre cinematic history.

Issues 27 to 29 of Robin Bougie's celebrated independent magazine are revisited in this sixth wild FAB Press volume, along with an additional 80 pages of never-before-seen interviews, rants, comics, hard-to-find classic movie advertising, and graphic illustrations by Bougie and his talented friends from both the comic book and animation industries.

Regardless of whether readers are just discovering the world of classic porn, horror, and exploitation movies, or if they're long time fans, they'll find plenty to get excited about, as they gleefully slosh around in the filth of the Cinema Sewer.