You are here
Back to top
The Laverda Twins & Triples Bible: 650 & 750cc Twins - 1000 & 1200cc Triples (Paperback)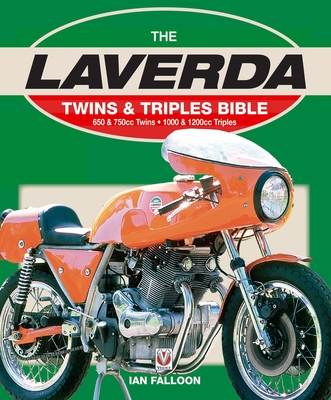 $60.00
Email or call for price
Description
---
Reprinted after a long absence! The Laverda Twins and Triples Bible provides a detailed history of this innovative and daring Italian manufacturer and the bikes they built.

Laverda has acquired a following of almost fanatical proportions. The large capacity twins and triples were some of the most charismatic and exciting motorcycles produced in a golden era. With a successful endurance racing programme publicising them, Laverda's twins soon earned a reputation for durability that wasn't usually associated with Italian machinery.

Originally built for the British market, the 1000cc Jota was the fastest Superbike available in its day. While the twins faded before the end of the 1970s, the triples continued for almost another decade before dying with a whimper. By this time the company was in serious difficulty and went into receivership. Despite a resurrection in the 1990s, it is the classic twins and triples of the late 1960s through until the mid-1980s that Laverda is now famous for.

Written by one of the world's foremost motorcycle historians, Ian Falloon, who has his own small collection of classic sporting bikes – including a Laverda 750 SFC.
 
About the Author
---
Ian Falloon was born in New Zealand and studied engineering and music at Victoria University, Wellington. After a motorcycle accident brought an end to his career as a symphony orchestra oboist, he began writing articles about motorcycles for magazines including Classic Bike, Cycle World, Motorcyclist, Two Wheels, Motorcycle Sport, and Australian Motorcycle News. His first book, The Ducati Story, has run to several editions and has been published in three languages. The success of The Ducati Story led to a series of Ducati books and histories of Honda, Kawasaki, BMW, and Moto Guzzi motorcycles including Motorbooks titles The Complete Book of Ducati, The Complete Book of Moto Guzzi, The Complete Book of Triumph Motorcycles, and The Art of Ducati. With an interest and passion spanning decades, Ian now concentrates on collecting and restoring older Italian motorcycles, particularly Ducati, MV Agusta, Laverda, and Moto Guzzi. He lives in Melbourne, Australia, and is ably supported in his projects by his family.