You are here
Back to top
The Epic Retirement Bucket List: 150 Globe-Trotting Ideas to Inspire Your Next Chapter (Paperback)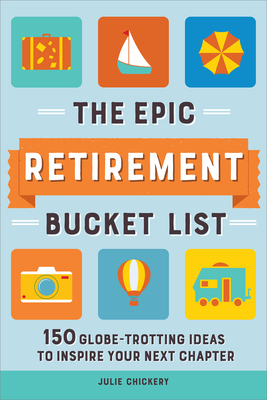 $12.99
Email or call for price
Description
---
Make your retirement an unforgettable adventure!
Welcome to retirement! Life beyond the working world is full of opportunity and excitement—but figuring out exactly where to go and what to do can be tough. Explore retirement with this inspiring guide so you'll never run out of creative ways to make your next phase your best phase.
Explore the unknown—Choose from 150 outside-the-box ideas and hobbies, whether it's ​​swimming with sharks in the Maldives, learning the art of cheesemaking in the Swiss Alps, or volunteering at a community garden.
Cover the globe—Book your trip, pack your bags, and travel the world with a list of destination activities on every continent.
Get trustworthy guidance—Come prepared with insider knowledge about what to see at each destination, how to enjoy local activities, and where to eat while you're there.
Look forward to the future with this inspiring retirement book.
About the Author
---
JULIE CHICKERY is a travel writer and public speaker. After serving 20 years in the U.S. Air Force, Julie and her husband lived and traveled full-time in an RV for six years. Learn more about her travel adventures at ChickerysTravels.com.
Praise For…
---
"What a fantastic resource for retirees but also for those who just want to create a life with more adventure! Even if you never want to leave your hometown, Julie's list gives you ideas to spark your adventurous spirit. While other lists give you pretty pictures, Julie has made a list that truly shows you how to do it with a great first step for each entry and a super resource list. I have already added several to my personal bucket list!" —Debra Benton, The Virtual Campground

 "Julie turns the world over and shakes out a toy box of excitement for active retirees. What's next after retirement? It's up to you. The Epic Retirement Bucket List is the starting place for adventure." —Carmen and Jim Beaubeaux, authors of the travel blog: LivingInBeauty.net

 "This is the perfect book for anyone who views retirement as the beginning of their next adventure! Julie offers fun, creative ideas for all interests and levels of fitness. Jump into The Epic Retirement Bucket List on any page to find activities or destinations that strike your fancy and add them to YOUR bucket list. When you see all these incredible options, you will wish you had retired sooner!" —Stephanie Montague, Founder of military travel website PoppinSmoke.com

"This book is perfect for retirees who are not planning to stay home in their prime years. Julie gives you 150 ways to get out, enjoy your life, and check off those bucket list items. From swimming in caves in Mexico to rafting through the Grand Canyon, she has covered it all. Not only does she give you all the great places but she gives you tips on how to get started too. Perfect gift for retirees and travelers of any age." —Patty Gill, Published Writer and Creator of @Gills_On_Wheels

"If you think you have a big bucket list, think again. This bucket list is not only EPIC it brings real-world adventures into your hands. As a full-time RV traveler, remote worker, and brave adventurer, Julie Chickery combines her love of travel with her writing experience to bring you the best of the best ideas so that you can live YOUR epic retirement dreams!" —Camille Attell, Business and Life Coach For Retirees