You are here
Back to top
The Decoration of Houses (Hardcover)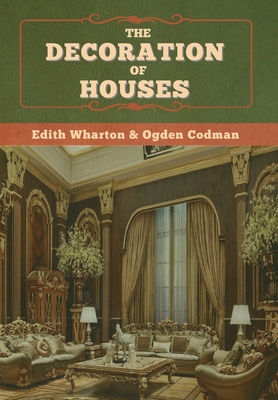 $24.95

Usually Ships in 1-5 Days
Description
---
Edith Wharton (born Edith Newbold Jones; January 24, 1862 - August 11, 1937) was an American novelist, short story writer, and designer. Wharton drew upon her insider's knowledge of the upper class New York "aristocracy" to realistically portray the lives and morals of the Gilded Age. In 1921, she became the first woman to win the Pulitzer Prize for Literature. She was inducted into the National Women's Hall of Fame in 1996.
Despite not publishing her first novel until she was forty, Wharton became an extraordinarily productive writer. In addition to her 15 novels, seven novellas, and eighty-five short stories, she published poetry, books on design, travel, literary and cultural criticism, and a memoir.
In 1873, Wharton wrote a short story and gave it to her mother to read. Her mother criticized the story, so Wharton decided to just write poetry. While she constantly sought her mother's approval and love, it was rare that she received either. From the start, the relationship with her mother was a troubled one. Before she was 15, she wrote Fast and Loose (1877). In her youth, she wrote about society. Her central themes came from her experiences with her parents. She was very critical of her work and wrote public reviews criticizing it. She also wrote about her own experiences with life. "Intense Love's Utterance" is a poem written about Henry Stevens.
In 1901, Wharton wrote a two-act play called Man of Genius. This play was about an English man who was having an affair with his secretary. The play was rehearsed but was never produced. Another 1901 play, The Shadow of a Doubt, which also came close to being staged but fell through, was thought to be lost, until it was discovered in 2017. Its world premiere was a radio adaptation broadcast on BBC Radio 3 in 2018. She collaborated with Marie Tempest to write another play, but the two only completed four acts before Marie decided she was no longer interested in costume plays. One of her earliest literary endeavors (1902) was the translation of the play, Es Lebe das Leben ("The Joy of Living"), by Hermann Sudermann. The Joy of Living was criticized for its name because the heroine swallows poison at the end, and was a short-lived Broadway production. It was, however, a successful book.
Many of Wharton's novels are characterized by subtle use of dramatic irony. Having grown up in upper-class, late-19th-century society, Wharton became one of its most astute critics, in such works as The House of Mirth and The Age of Innocence. (wikipedia.org)