You are here
Back to top
Devils Hole Pupfish: The Unexpected Survival of an Endangered Species in the Modern American West  (America's National Parks) (Paperback)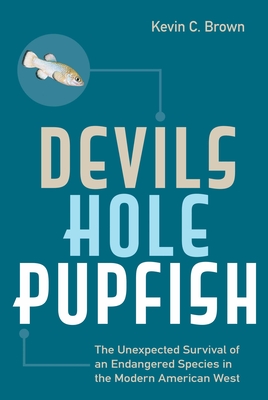 $30.00
Email or call for price
Description
---
Cyprinodon diabolis, or Devils Hole pupfish: a one-inch-long, iridescent blue fish whose only natural habitat is a ten-by-sixty-foot pool near Death Valley, on the Nevada-California border. The rarest fish in the world. 

As concern for the future of biodiversity mounts, Devils Hole Pupfish asks how a tiny blue fish—confined to a single, narrow aquifer on the edge of Death Valley National Park in Nevada's Amargosa Desert—has managed to survive despite numerous grave threats.

For decades, the pupfish has been the subject of heated debate between environmentalists intent on protecting it from extinction and ranchers and developers in the region who need the aquifer's water to support their livelihoods. Drawing on archival detective work, interviews, and a deep familiarity with the landscape of the surrounding Amargosa Desert, author Kevin C. Brown shows how the seemingly isolated Devils Hole pupfish has persisted through its relationships with some of the West's most important institutions: federal land management policy, western water law, ecological sciences, and the administration of endangered-species legislation. 

The history of this entanglement between people and the pupfish makes its story unique. The species was singled out for protection by the National Park Service, made one of the first "listed" endangered species, and became one of the first controversial animals of the modern environmental era, with one bumper sticker circulating in Nevada in the early 1970s reading "Save the Pupfish," while another read "Kill the Pupfish."

But the story of the pupfish should be considered for more than its peculiarity.  Moreover, Devils Hole Pupfish explores the pupfish's journey through modern American history and offers lessons for anyone looking to better understand the politics of water in southern Nevada, the operation of the Endangered Species Act, or the science surrounding desert ecosystems. 
About the Author
---
Kevin C. Brown works with his head and his hands on the east side of California's Sierra Nevada Mountains. He is a research associate in the University of California, Santa Barbara's, Environmental Studies Program, and has also worked as a journalist and as a researcher for the National Park Service and the American Society for Environmental History.
Praise For…
---
"In this fine book, Kevin Brown shows convincingly why a tiny fish matters in a big way. By tracking its rich history and the political entanglements it has engendered, he raises essential questions – ones specific to the pupfish, but extensible to other endangered species: Who gets to decide their fate? What survival tactics work best, and how long should those efforts continue? Ultimately, Brown illustrates one of the most important lessons of all: that life can be simultaneously persistent, adaptable, and fragile."
—Daniel Lewis, author of Belonging on an Island: Birds, Extinction, and Evolution in Hawaii

"This crystalline gem of a book considers the improbable survival of a small, obscure, and critically endangered aquatic animal, the Devils Hole pupfish, that has the most restricted habitat of any known vertebrate species. Deeply researched, engagingly presented, and convincingly argued, this is a remarkable story, one that is important and exceptionally well told."
—Mark V. Barrow Jr, professor of history, Virginia Tech, and author of Nature's Ghost: Confronting Extinction from the Age of Jefferson to the Age of Ecology

"A delightful and thought-provoking yarn, rich in good humor--and deep environmental meaning--in the best traditions of the new American west."
—Joshua P. Howe, professor of history and environmental studies, Reed College, and author of Behind the Curve: Science and the Politics of Global Warming and Making Climate Change History

"You have probably never heard of the Devils Hole pupfish.  In his fine and widely ranging book, Kevin Brown reveals that this "one inch long, twitchy blue fish" is a microcosm of the contentious histories of wilderness, science, water, and policy in the modern American West. This tiny fish contains multitudes."
—Anita Guerrini, Oregon State University