You are here
Back to top
The Ultimate Guide to Food Styling: Essential Lessons for Creating Picture-Perfect Dishes (Paperback)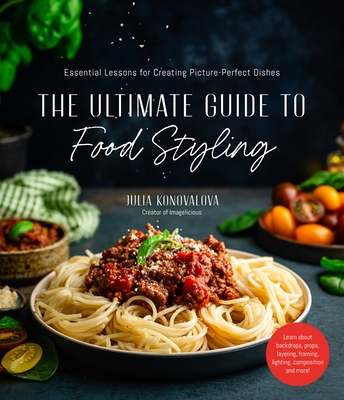 $29.99
Email or call for price
Description
---
Feast Your Eyes (and Tantalize Your Followers) with Fantastic Food Styling!

A lovely meal can look beautiful on the plate but what makes it truly standout? That's all in your lighting, the way you plate, the props you use, and the photographic theories you apply. In short, it's all in the art of food styling! Get your dishes camera-ready in an instant with celebrated food photographer and cook Julia Konovalova. Julia takes you behind the lens and delves into the cornerstones of food styling, including sections on:

• Backdrops and props
• Color theory
• Image composition
• Introducing action into food photos
• Juggling shutter speed, aperture, and ISO
• How to shop and cook with food photography in mind
• Composing in-progress shots
• Mastering the art of styling with clients in mind

Whether you are looking to make your followers swoon over mouthwatering home-cooked masterpieces or land a gig for a popular food brand, Julia has all the invaluable tips, tricks, and techniques to make your delectable art jump off the screen.
About the Author
---
Julia Konovalova is the creator of Imagelicious and the author of The Ultimate One-Pan Oven Cookbook. She has worked with food photography clients across the globe, and her photos have been featured on the menus of several restaurants. Julia lives in Toronto, Ontario, with her family.
Praise For…
---
"This book is a must-read for any food stylist or photographer. I'm sure that anyone who puts the contents of this book into practice will experience leaps and bounds in their food styling abilities."
— Eva Kosmas Flores, photographer and cookbook author

"This book is an asset for anyone wanting to create mouthwatering images!"
— Jennifer Emilson, author of The Lemon Apron Cookbook

"Food photographers of all levels will benefit tremendously from the easy-to-read, beautifully executed wealth of knowledge in this book."
— Mahy Elamin, creator of Two Purple Figs

"This is an entertaining and practical manual for anyone wanting to perfect their food styling skills. The level of detail in this book is simply astonishing!"
— Anja Burgar, creator of Use Your Noodles

"Julia's generous tips and easy explanations paired with her beautiful photographs will inspire you to take your food styling to the next level."
— Betty Shin Binon, creator of Stems and Forks

"This is an absolutely beautiful food styling guide, from an author who isn't just a styling expert, but also an excellent teacher. With beautiful visuals and clear takeaways, this book deserves a place right next to your camera."
— Brooke Lark, founder of Lark & Co. Creative Agency