You are here
Back to top
Hollywood Weekly Magazine (Paperback)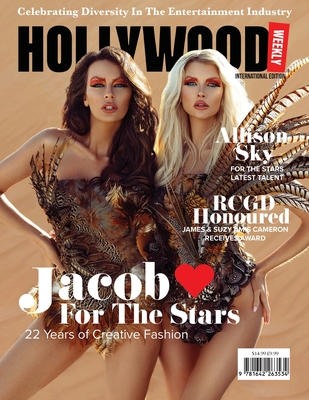 $14.99
Email or call for price
Description
---
This month, we're rolling out the red carpet as For The Stars celebrates their 22nd anniversary.
This Hollywood based fashion treasure has been serving up hand made, one of a kind, show stopping looks for over two decades, and leaves many wondering how they continue to create masterpieces that send shockwaves down the runway.
For The Stars is a unique, high-end fashion house run by creative director, and fashion legend, Jacob alongside
fashion designer Carlos Pretelin. With their team, they create incredible, unmatchable runway shows and editorials that leave viewers in awe. Jacob's looks can also be seen on hundreds of various platforms such as music videos, TV shows, and feature films.
Also we are pleased to feature Red Carpet Green Dress founder Suzy Amis Cameron, & James Cameron were recently awarded with the 2021 Kea World Class Friend of New Zealand Award. Every year, at the World Class Awards, Kea recognizes a diverse range of Kiwi and friends of New Zealand who through the impact of their work, leadership and philanthropy raise New Zealand's mana globally.
Speaking of our international coverage Southern England offers breathtaking beaches and coastal paths aplenty, while up North you'll find serene lakes, cottages and rolling hills. But what's to be expected on your trip to Central England? Steeped in culture and history, Central England and the Midlands is home to some of the nation's most famous cities - making it the perfect trip to please every type of traveler.
And most importantly in our coverage of India, the roadmap offered by the Modi administration concedes so little that it seems grudging at best and a diktat at worst. Prime Minister Narendra Modi's meeting with political leaders from Jammu and Kashmir was understandably hyped, given that it came after almost two years, during which most of the then state's political leaders were imprisoned by his administration. That the meeting was cordial and each of the 14 participants spoke freely is another plus.
Enjoy,
Prather Jackson