You are here
Back to top
Modern Refrigeration and Air Conditioning (Paperback)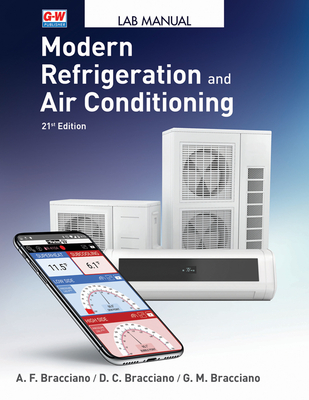 $46.00
Email or call for price
Description
---
The Modern Refrigeration and Air Conditioning Lab Manual has been designed to accompany the text, Modern Refrigeration and Air Conditioning. Completing these lab activities will help you to master the principles of HVACR operation and service.

This Lab Manual is designed for specific hands-on activities. However, these lab activities can be expanded or modified. Completion of an activity will depend on the equipment available, course objectives, and the individual instructor.

Each lab activity has specific objectives that are achieved by the completion of the assignment. References to chapters in the Modern Refrigeration and Air Conditioning textbook allow you to review the related content prior to or while performing the activity. The specific equipment required for the activity is listed as an aid to preparation. Review questions are also part of the lab activities to help you fully understand the concepts involved.

Safety is an important part of all activities. The primary causes of accidents are carelessness and lack of knowledge of the correct operating and working procedures. It is essential that good safety habits begin in the lab setting. Basic safety procedures for various conditions are identified in this Lab Manual. Each lab activity also includes a list of safety reminders relevant to the lab activity.

This Lab Manual will enhance the quality of your training. Through the use of "hands-on" experience, you will learn to size, install, maintain, service, and repair various types of heating, air-conditioning, and refrigeration systems.