You are here
Back to top
Teeth Are Not for Biting / Los dientes no son para morder (Best Behavior® Board Book Series) (Board book)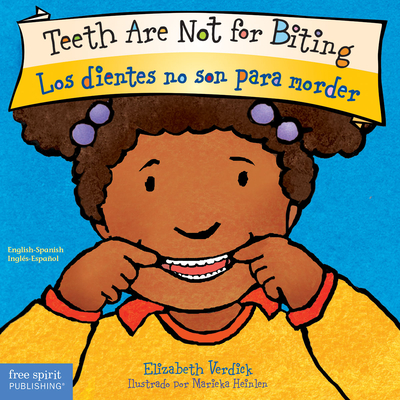 $9.99
Email or call for price
Description
---
New bilingual title from Free Spirit's popular Best Behavior® board book series of English-Spanish books for kids.

Many young children go through a biting phase. This upbeat, colorful, bilingual English-Spanish board book gives reasons why children might want to bite. Little mouths feel sore when new teeth come in; sometimes kids bite when they're hungry, tired, cranky, frustrated, angry, bored, distressed, or seeking attention. This book helps prevent toddler biting and teaches positive alternatives: chew a chewy toy, drink a cold drink, get a hug, tell a grown-up. The book also includes helpful tips for parents and caregivers in both English and Spanish.
About the Author
---
Elizabeth Verdick has been writing books since 1997, the year her daughter was born. Her two children are the inspiration for nearly everything she writes. She is the author of more than 40 highly acclaimed books for children and teens in Free Spirit's Best Behavior, Toddler Tools®, Happy Healthy Baby®, and Laugh & Learn® series. Some of her most beloved titles include Germs Are Not for Sharing, Words Are Not for Hurting, Calm-Down Time, Don't Behave Like You Live in a Cave, Stand Up to Bullying!, and The Survival Guide for Kids with Autism Spectrum Disorders (And Their Parents). She lives with her husband, two children, and a houseful of pets near St. Paul, Minnesota.
 
Marieka Heinlen received her BFA at the University of Wisconsin, Madison, and also studied at Central Saint Martins College of Art and Design in London. She launched her career as an award-winning children's book illustrator with Hands Are Not for Hitting and has illustrated all of the books in the Best Behavior and Toddler Tools series. Marieka focuses her work on books and other materials for children, teens, parents, and teachers. She lives in St. Paul, Minnesota, with her husband, son, and daughter.