You are here
Back to top
Potty Training in 3 Days: The Step-by-Step Plan for a Clean Break from Dirty Diapers (Paperback)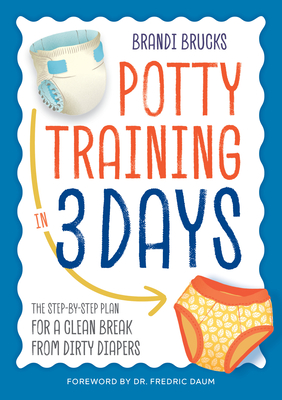 $11.99
Email or call for price
Description
---
Help toddlers ages 1 to 3 go from dirty diapers to using the potty in just 3 days!
Ditch the diapers in no time with this step-by-step plan. Filled with expert advice accrued over thousands of cases, this potty training book makes it easy to get your child to start using the toilet. This guide covers everything you need to know, from prepping for your potty training weekend to supporting and encouraging your child once they've made it through the three days.
Go beyond other potty training books with:
A proven plan―Potty train your child fast with a 5-step plan that includes useful tips and tricks for succeeding every step of the way.
Insight into your child―Understand what's going on in your child's head, how to recognize when they're ready for potty training, and more.
Ways to stay cool―Keep calm through every accident thanks to a kind and conversational approach that takes the stress out of potty training.
Say bye-bye to diapers with
Potty Training in 3 Days
.
About the Author
---
BRANDI BRUCKS, CPST, is the director of Your Village Consulting. She holds a master's degree in Elementary Education from Simmons College in Boston, Massachusetts. As a Potty Training Consultant and Behavior Specialist, she has taught thousands of children how to use the toilet.

DR. FREDRIC DAUM is a Harvard graduate with 45 years of experience in Pediatric Gastroenterology. He is Chief of Pediatric Gastroenterology at Winthrop University Hospital in Mineola, New York, and Professor of Pediatrics and Clinical Scholar in the School of Medicine at Stony Brook University.
Praise For…
---
What readers are saying about Potty Training in 3 Days:

"I LOVED this book and the advice that came along with it…It's a quick, easy read. We're on day three of potty training and feeling AMAZING. Brandi gave me the knowledge I needed and the confidence boost to make it happen. My son just turned two and is feeling SO proud of himself. Highly recommended!"—Shannon Atwater

"The methods in this book work amazingly! It's a short read for busy parents who don't have time to read a long drawn out how-to guide. We are through the first day and had hardly any accidents! I'm so happy we chose this book for potty training our kiddo!"—Amazon customer

"I am so proud of my [3 year old] daughter and so glad that I found this book. I recommend this book to anyone who is serious about potty training and willing to dedicate 3 full days to the effort. It was not fun but it was so rewarding."—Candice C.

"I was terrified of potty training. This book was quick to read and set me up for my long weekend boot camp, only to find that my son caught on in the first 3 hours of this miracle system! Give this a try!"—J Taylor

Parents Who Have Worked with Brandi Say...

I'm so grateful for the information that Brandi gave me and my family! Her knowledge was priceless. This book will make any parent feel like a hero!
– Jenn Taylor

Brandi's potty training system fit perfectly into our family's regular routine. And best of all… it works! She left everyone feeling happy, and kept the underpants dry for good.
—Lily Tracy

After the disastrous experience I had potty training my oldest son, I was dreading the process of potty training my twins. Brandi accomplished in three days what took me nine months the first time.
—Allison Reyna

Per Brandi's suggestion we devoted 3 days home to the process. My son was completely trained within those three days with minimal accidents after. I will most definitely use her plan to potty train my daughter next year!
—Erin Rioux

Brandi made potty training easy with a step by step plan. Not only that, I started training Addison's younger sister at the same time, and she is doing wonderfully, too! Thank you from the bottom of our hearts!
—Betsy, John, Addison, and Samantha Hinojosa