You are here
Back to top
Kitchen Remodeling (Paperback)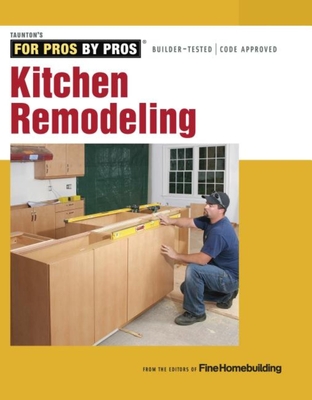 $24.95
Email or call for price
Description
---
All-new edition keeps you up-to-date In the ever-evolving world of remodeling, it's important to keep on top of current issues - and that's easy with the newest edition of Kitchen Remodeling, from the editors of Fine Homebuilding. It focuses on the latest ideas and what it takes to renovate a kitchen of any size or shape, on any budget.
For Pros by Pros - the resource for builders and serious amateurs. Like every book in the For Pros by Pros series, the information in Kitchen Remodeling is geared to professionals. Culled from the best articles in Fine Homebuilding magazine, it's the go-to resource for builders, remodelers, and the building trades.
Everything to remodel a kitchen from top bottom. Kitchen Remodeling brings a lot to the table in helping to plan and complete a remodel without costly missteps. It's where pros turn for sound advice on every aspect of a makeover, from opening up a small kitchen to getting appliances to fit, to building an island, a corner nook, or the perfect pantry.
An in-depth look at those all-important cabinets. Every aspect of a remodel is critical whether you're talking countertops, flooring, or ventilation, but kitchen cabinets consume the lion's share of attention. A good portion of Kitchen Remodeling addresses this concern with must-know information that covers:
Quick cabinet upgrades
A buyer's guide to kitchen cabinets
Installing stock cabinets
Installing cabinets in tight spaces
A faster, easier approach to custom cabinets
How to install inset cabinet doors
About the Author
---
All contributing authors are seasoned professionals whose articles have appeared in Fine Homebuilding magazine.