You are here
Back to top
Painless Reading Comprehension (Barron's Painless) (Paperback)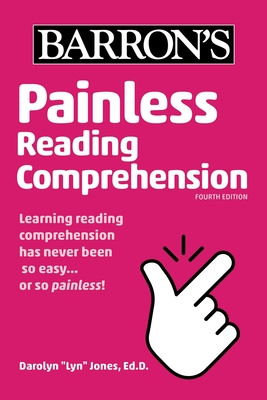 $16.99
Email or call for price
Description
---
Whether you're a student or an adult looking to refresh your knowledge, Barron's Painless Reading Comprehension provides review and practice in an easy, step-by-step format.Perfect for:
Virtual Learning
Homeschool
Learning pods
Inside you'll find:
Clear examples for all topics, including  reading patterns, mastering multiple-choice questions, context clues, strategies, and much more
Sample reading passages throughout
Painless tips, common pitfalls, and informative sidebars
Brain Tickler quizzes throughout each chapter to test your progress
 
About the Author
---
About the Author
Darolyn "Lyn" Jones
Fishers, IN

Darolyn "Lyn" Jones  Ed.D. earned her doctoral degree in educational studies from Ball State University. She has a M.S. in Literacy, Culture, and Language Education from Indiana University at Bloomington and a B.A. in English and English Secondary Education from Purdue University. Jones currently teaches English education, creative writing, and rhetoric and composition at Ball State University. While at Ball State, Jones has been awarded the Excellence in Teaching Award (EXIT), the Top Diversity Research and Publication Award two years in a row, won the Accessibility Faculty Member of the year award, twice awarded the Ball State Difference Maker of the Month Award, and has been nominated for the Robert O'Foster Faculty award. She has also served as a peer editor for the National Council Teachers of English (NCTE) critical journal, English Journal, for 10 years and has been a guest editor for Duke University's, Pedagogy: Critical Approaches to Teaching Literature, Language, Composition, and Culture.

About the Publisher 
In the 1930s, Manuel H. Barron opened a bookstore in Brooklyn, New York. 

People from the community asked Mr. Barron about books that might be available to help their children study for the New York State Regents exams. After realizing there wasn't anything available, Mr. Barron created his own study guides.

80 years later, Barron's has helped millions of people prepare for their next step.