You are here
Back to top
The Present and Future of Music Law (Paperback)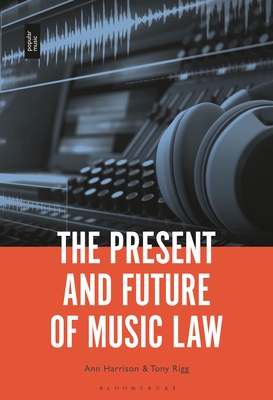 $43.95

Usually Ships in 1-5 Days
Description
---
The music business is a multifaceted, transnational industry that operates within complex and rapidly changing political, economic, cultural and technological contexts. The mode and manner of how music is created, obtained, consumed and exploited is evolving rapidly. It is based on relationships that can be both complimentary and at times confrontational, and around roles that interact, overlap and sometimes merge, reflecting the competing and coinciding interests of creative artists and music industry professionals. It falls to music law and legal practice to provide the underpinning framework to enable these complex relationships to flourish, to provide a means to resolve disputes, and to facilitate commerce in a challenging and dynamic business environment.

The Present and Future of Music Lawpresents thirteen case studies written by experts in their fields, examining a range of key topics at the points where music law and the post-digital music industry intersect, offering a timely exploration of the current landscape and insights into the future shape of the interface between music business and music law.
About the Author
---
Ann Harrison is a Consultant at SSB Solicitors Limited, a leading boutique law firm that specializes in music law, wider entertainment law, sponsorship and branding. She is a highly experienced lawyer who is well known across the UK music industry and regarded as expert in all aspects of music business contracts, copyright, protection of IP rights, et al. Ann is author of Music: The Business (8th Edition, 2021), the key textbook on all music business further education courses in the UK. She is a guest Lecturer at many UK higher education institutions and recipient of an Honorary Doctorate for services to music and education from the University of Central Lancashire, UK. Ann is recognised as a Leading Practitioner in the Chambers and Partners 2021 Legal Services Guide. Tony Rigg is a Music Industry Advisor, Practitioner, Business Consultant, and Educator affiliated with the University of Central Lancashire, UK, where he leads the Master of Arts Programme in Music Industry Management. He has occupied senior management roles in market-leading organizations including Operations Director for Ministry of Sound, overseen the management of more than one hundred music venues and delivered thousands of music events. As an artist/ producer he has a chart pedigree with tracks featured on chart-topping and gold-selling albums. Notable publications include Popular Music in the Post-digital Age: Politics, Economy, Culture and Technology (2018), The Future of Live Music (2020) and The Evolution of Electronic Dance Music (2021), which he co-edited with Ewa Mazierska and Les Gillon and The Present and Future of Music Law (2021), which he co-edited with Ann Harrison.