You are here
Back to top
Everyday Survival Kits: Exactly What You Need for Constant Preparedness (Paperback)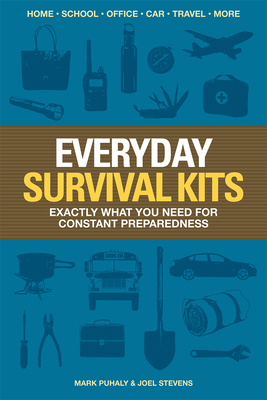 $18.99

Usually Ships in 1-5 Days
Description
---
Be Prepared to Survive Everyday Emergencies
The keys to your everyday survival are: situational awareness, knowledge, and practiced preparedness skills. Sure, it's important to have trustworthy survival gear, but possessing the mindset that you are prepared for anything, and that you will survive no matter what happens, is your secret weapon that will help you to stay alive in an emergency.
Everyday Survival Kits contains clearly outlined packing lists for what you need for specific survival situations. A situation will arise when you'll require more than just a bug out bag or a get home bag--with the help of this guide you'll be prepared to stay alive.
Inside you'll find:
detailed packing lists for a variety of kits including: everyday carry, hip bag, pocket survival kit, emergency 72-hour bag, urban survival bag, day hike kit, emergency car kit, vacation kit, student kit, purse kit, extreme weather kit, maritime kit, and the ultimate bug out bag
practical applications and detailed instructions of how to use each item in the kit
a resources section to take the guesswork out of finding and buying the right gear for the kit
non-branded gear recommendations so you can select gear that fits both your need and your budget
real-world scenarios in which the kits will be useful
The only person you can fully rely on in a survival situation is you. The more you think about possible emergencies now, and prepare for them before they happen, the more likely you are to survive. The future belongs to those who are prepared, so be ready.
About the Author
---
Mark Puhaly and Joel Stevens write for the popular survival blog survivalcache.com. Both have appeared on the National Geographic TV Show Apocalypse 101. They have served as Marine infantry officers in the U.S. Marine Corp and Puhaly is a former Marine recon team leader and Marine officer instructor at The Basic School. Both are avid outdoorsmen and survivalists.