You are here
Back to top
Gun Digest Book of Shotguns Assembly/Disassembly, 4th Ed. (Paperback)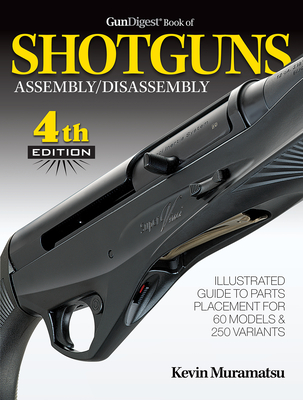 $36.99
Email or call for price
Description
---
Step-by-Step Guide to Parts Placement for Today's Most Popular Shotguns
Shooters, gunsmiths and collectors alike will find the revised version of this handy guide an essential reference for disassembling and reassembling a variety of shotguns.
Step-by-step photographs and clear, simple text make it easy to disassemble and reassemble a wide range of modern and vintage models. Plus, author Kevin Muramatsu's decades of gunsmithing experience shine through in practical reassembly tips that help you overcome specific reassembly hurdles for each model.
Additions to the lineup include the hottest models from:
Benelli
Beretta
Chiappa
CZ
Mossberg
Stoeger
Weatherby
And more
With more than a dozen of the newest, hottest shotguns on the market, this comprehensive resource now covers more than 250 variants.
About the Author
---
An experienced gunsmith and popular writer, Kevin Muramatsu has authored numerous books for Gun Digest, including Gun Digest Guide to Customizing Your AR-15, Exploded Gun Drawings and Gun Digest Guide to Maintaining and Accessorizing Firearms, as well as Assembly/Disassembly titles for pistols, centerfire rifles, tactical weapons and shotguns. Kevin lives in the Twin Cities area with his wife, three children, and not enough guns.