You are here
Back to top
The Other Side of the Fence: Love, Loyalty, Respect, Betrayal: A Woman in the Motorcycle Club World (Paperback)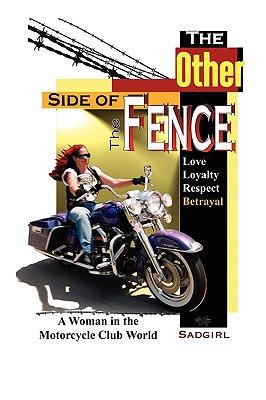 $21.95

Usually Ships in 1-5 Days
Description
---
The Other Side of the Fence is a five-year journey of being a woman biker in a motorcycle club, and her association with the 1% clubs in Central Arkansas, predominantly the Bandidos and the Sons of Silence. She wrote this book so the reader can have an understanding of the general politics inside the motorcycle club world for most women.
It is the chronological account through her eyes, of the Highway Chicks Motorcycle Club, founded by two women from 2002 until 2007. It shows how their eccentric manner of conduct was so distinguished that they became the first, female Bandido Support Club in the nation.
As you turn the pages of this expedition, you will look at the politics inside the MC world and the rigorous standards this woman lived by for many years. Through total commitment and absolute submission to her Colors, she endured personal forfeits as a woman in a male-dominated world.
"We strived to be the first all female official MC club in Arkansas with a three-piece patch and an mc cube. We wanted to be the first female club that lived the lifestyle of outlaw bikers and rode just as men. We rode hard, miles after miles, interstates, highways, back roads, curves, in the rain, in the cold and in the blistering hot sun. We weren't afraid to become full fledged, bona fide bikers and definitely not in the least worried to prove it. That was our single-minded focus," says the Author.
You will catch sight of a woman's betrayal to sisterhood and the domino effect of that treachery.
The Other Side of the Fence also tells the intriguing, passionate story of the illicit love affair between two "8Patches" from opposite club Colors. One an MC President; the other a 1%'er, and the plan they conceived to bring unity in the motorcycle community through Christian ministry. You will walk through the personal lives of these bikers from beginning to end as you feel the gravitational pull on this roller coaster ride.
There are two special educational chapters at the end of the book, which is for understanding and interacting with the MC culture. It offers a basic crash course and overview of the MC lifestyle, and six steps on how to start an "MC" in your town.
As you read this book, you will laugh and perhaps cry as you journey all the way through these factual, adventure-filled pages. The wealth of information you will discover in each chapter reveals a clear understanding of the biker's way of life. For countless readers it will serve as a handbook for starting a motorcycle club.