You are here
Back to top
Off-Grid Solar Power Systems Beginners (Paperback)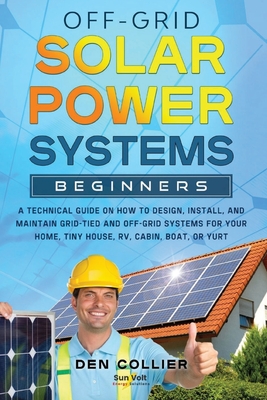 $17.99

Usually Ships in 1-5 Days
Description
---
Bring power to your DIY off-grid living by following these 6 simple steps
Ever since the Industrial Revolution, fossil fuels have dominated progress across the whole world, bringing a dramatic shift to how machines operate, how vehicles move, and how people have light in their lives - everything thanks to the power of fossil fuels.
Today, according to the U.S. Energy Information Administration, 80% of domestic energy production, as well as consumption in the US, comes from fossil fuels.
Unfortunately, such a high rate of dependency can leave behind many scars on our planet, including, but not limited to:
Degradation of land
Destruction of natural wildlife and habitats
Pollution of critically important natural resources
Global warming
All these factors can greatly affect the quality of life.
Thankfully, we already have the greatest resource to rely on for clean, green energy: sunlight.
Solar energy is a wonderful alternative that keeps the environment clean. And if you happen to love living off-grid, it is sufficient to provide for all your modern needs and comforts.
So, why not tap into this renewable resource and design your whole life around it?
In this off-grid living guide, you will find out how to harness the power of the sun and discover:
A robust, easy-to-follow 6-step process to building an off-grid solar power system from scratch, and enjoying clean energy without paying for it
Solar Energy and Electricity 101 - put yourself into the shoes of experts and uncover how to build circuits around solar power
Only the Essentials - explore the key components that go into designing an off-grid solar system and understand how they work
DIY Off-grid Living - discover how to build independent solar power systems for small cars, RVs, boats, cabins, and small homes
Planning Like a Pro - how to calculate your energy requirements and use them to design a simple yet effective system
Buying guides to help you pick the right equipment for your setup, whether solar panels, batteries, or inverters
A DIY Enthusiast's Dream - detailed designing and building guides to get you started right off the bat
And much more.
Solar energy has the potential to not only help you run small, mundane appliances but also to completely remove your dependency on grid-tied electricity, freeing you from paying hefty bills and allowing you to modify your power system the way you want.
Easy to install and work with, solar energy is the future...
Tap into the power of the Sun and discover how to build off-grid solar power systems - scroll up and click "Add to Cart" right now.