You are here
Back to top
New Mexico's Railroads: A Historical Survey (Paperback)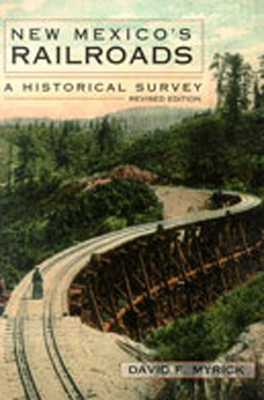 $24.95

Usually Ships in 1-5 Days
Description
---
This is a railroad lover's book. The steel, steam, and dreams of a century of railroading in New Mexico are captured in 200 photographs and a crisp text. From a bygone era of narrow-gauge lines to today's Amtrak service, this book covers both the short lines and the branches feeding to main lines of major railroad systems.
New Mexico, isolated until 1878 when the Atchison, Topeka, and Santa Fe Railroad laid the first span of track in the territory, in just thirty months had over 1,000 miles of rail line. Soon trains of freight and passenger cars, marvel of the industrial age, crisscrossed the territory delivering eastern fashion, settlers, and tourists and hauling away lumber, coal, silver, and cattle.
The great railroad-building era in New Mexico ended with World War I, when eleven common carriers operated 3,000 miles of track. The subsequent history of New Mexico railroads is one of persistent struggle, slow eclipse, and corporate consolidation. But as this volume reminds us, steel rails, roaring engines, and clattering cars will always be a part of New Mexico's heritage.