You are here
Back to top
Pocket Sudoku Presented by Will Shortz, Volume 2: 150 Fast, Fun Puzzles (Mass Market)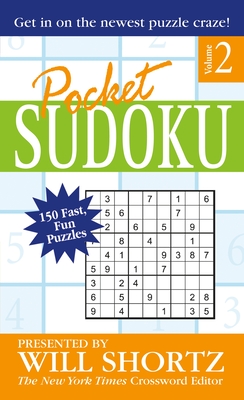 $8.99

Usually Ships in 1-5 Days
Description
---
GET HOOKED ON THE LATEST PUZZLE CRAZE!

It's hot, fun, mind-boggling, and once you start, you won't want to stop. It's sudoku -- the new puzzle rage that's got the nation in a frenzy. New York Times crossword editor Will Shortz presents yet another stimulating and fun collection of 150 sudoku puzzles, ranging in difficulty from easy to more challenging. There are just a few simple rules: Fill in the empty boxes in the grid of 81 boxes, divided into nine three-by-three squares, so that every row, column, and square contains the numbers 1 through 9, without repeating. You don't need any mathematical knowledge. Whether you're a crossword enthusiast or a lover of puzzles, you'll want to try this latest sensation. Don't waste any more time. Pick up a pencil and test your wits with sudoku!
About the Author
---
Will Shortz has been the crossword puzzle editor of The New York Times since 1993. He is also the puzzlemaster on NPR's Weekend Edition Sunday and is founder and director of the annual American Crossword Puzzle Tournament. He has edited countless books of crossword puzzles, Sudoku, KenKen, and all manner of brain-busters.
Praise For…
---
"A puzzling global phenomenon" —The Economist

"The biggest craze to hit The Times since the first crossword puzzle was published in 1935. Sudoku is dangerous stuff. Forget work and family -- think papers hurled across the room and industrial-sized blobs of correction fluid. I love it!" —The Times of London

"England's most addictive newspaper puzzle." —New York magazine

"The latest craze in games." —BBC News

"Sudoku are to the first decade of the twenty-first century what Rubik's Cube was to the 1970s." —The Daily Telegraph

"Britain has a new addiction. Hunched over newspapers on crowded subway trains, sneaking secret peeks in the office, a puzzle-crazy nation is trying to slot numbers into small checkerboard grids." —Associated Press

"Diabolically addictive." —The New York Post